Bert A. "BJ" Kobayashi, Jr.
Partner & Co-Founder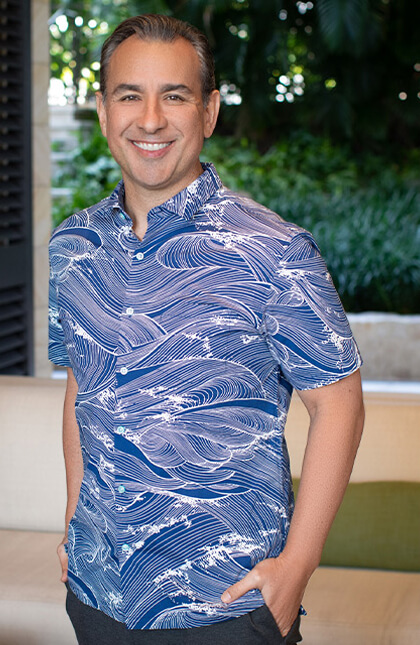 In addition to being a Founding Partner of Kobayashi Group, BJ is also a Managing Partner, Co-Founder, and Investment Committee Member of BlackSand Capital, LLC. He continues to serve as a Partner of Kobayashi Group, LLC following the formation of the Fund. Mr. Kobayashi has 22 years of experience in private equity investment, real estate acquisitions, project origination, procurement of construction and permanent debt facilities, and subordinate/mezzanine financing. Over the course of his career, he has been involved in over $5 billion worth of real estate investments in hotels, residential, retail, land and mixed-use developments.
Born and raised in Honolulu, Hawaii, Mr. Kobayashi graduated from Punahou School, the Georgetown University McDonough School of Business (with a major in International Business), the Oxford University - Georgetown Business Program, and Georgetown University's Law Center, where he earned a Juris Doctor degree. He is also a member of the Hawaii State Bar Association.
Mr. Kobayashi is a Trustee of Hawaii's largest municipal bond fund, the Hawaiian Tax-Free Trust, and he previously served on the Board of Directors of Hawaiian Electric Company. Additionally, the late Senator Daniel K. Inouye appointed BJ to the 2011 Asia-Pacific Economic Cooperation (APEC) Host Committee, where he served as co-chair of the Budget and Finance Committee. In 2007, from a field of 40 business leaders under the age of 40, Pacific Business News awarded Mr. Kobayashi the prestigious Young Business Leader of the Year award. In the same year, Hawaii Business Magazine recognized Mr. Kobayashi as one of the "25 People for the Next 25 Years" to watch.
Mr. Kobayashi is active in community service and serves as the President of the Georgetown Club of Hawaii, a co-founder of the GIFT Foundation of Hawaii, a Board Member of the Shane Victorino Foundation and Director for Inspire the Keiki Foundation. Mr. Kobayashi is also a member of the Young Presidents' Organization. Mr. Kobayashi previously served on the boards of The Nature Conservancy of Hawaii, Hanahau'oli School, and was a co-chair of the East-West Center Foundation and Punahou School's Board of Trustee's Annual Fund Leadership Committee.