Bert A. Kobayashi Sr.
Founder & Senior Advisor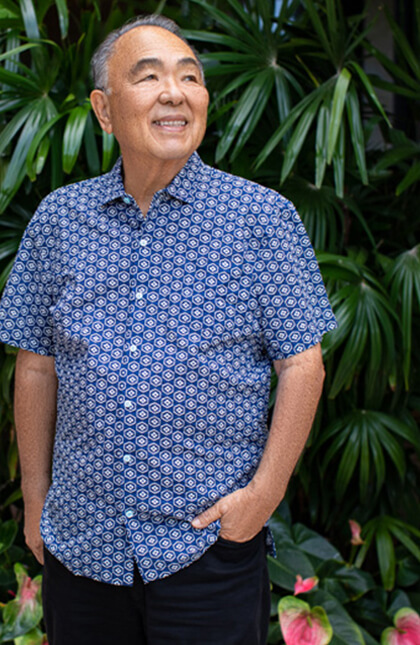 Bert Kobayashi began his career at Albert C. Kobayashi, Inc. (ACK) in 1962 when his father and company founder suffered an illness and Bert was asked to leave college and manage the company. Under his leadership, ACK grew in size from $2 million to $125 million a year. When Mr. Kobayashi and other stakeholders sold the company to its employees in 1993, ACK had become the third-largest (and largest locally-owned) general contractor in Hawai'i.
During his term as Chairman and CEO of ACK, Mr. Kobayashi built a reputation for getting the job done on schedule and within budget. Under his direction, ACK completed the following notable projects: Hilton Hawai'ian Village (including renovation of major retail components within the Village); Ko'Olina Golf Clubhouse (including retail club shops and Bay Restaurant); Sheraton Moana Surfrider and its various luxury retail shops; the Turtle Bay Hilton; West Loch Estates; HMSA's office & parking structure; and Country Club Villages in Salt Lake.
Following the sale of ACK, Bert refocused his efforts on real estate development and investment, founding a company that would eventually become Kobayashi Group LLC (KG), of which he has since entrusted management responsibility to his children, BJ, Patrick and Alana. Through KG and its affiliates, Bert has been instrumental in completing the following real estate transactions in recent years: Kapolei Kai, a 204-single family home development in West Oahu; Napili Villas, a 184-townhome development in West Maui; Kukio Beach and Golf Club in Kona; Hokua at 1288 Ala Moana, a luxury mixed-use condominium; Queen's Medical Center Parking Structure & Tunnel; and Nikken timeshare units and land in Waikoloa. He also acquired the Queen Kapiolani and Ocean Resort Hotels in Waikiki, as well as the Mililani, Pukalani and Kiahuna Golf Courses (which were subsequently sold).
Mr. Kobayashi and his wife, Susan, have received several professional awards, including recognition in 2008 by the State of Hawaii Senate and House of Representatives and the Historic Hawaii Foundation, for their leadership, contributions and commitment to the people of Hawai'i. Mr. Kobayashi has also received the Bishop Museum's Charles Reed Bishop Award for his public service to the museum and to the Hawaiian community; the Pacific Business News Businessman of the Year Award; and the Patrick Healy Award for his service to Georgetown University and community.
Mr. Kobayashi currently is a member of the Hawaii Business Roundtable and serves on the boards of American Savings Bank and After-School All-Stars Hawai'i. He has also led fundraising efforts for the Polynesian Voyaging Society's Malama Honua World Voyage. Mr. Kobayashi is the former Chairperson of the Board of Directors of Bishop Museum and has held board positions with the Georgetown University Regents, Mid-Pacific Institute, Blue Planet Foundation, Hawai'i Nature Center, The Nature Conservancy of Hawai'i, as well as serving as former Chairman of the University of Hawai'i Board of Regents, the Kapiolani Health Care Foundation and the Hawai'i Children's Cancer Foundation.