Elton Wong
Vice President & Project Manager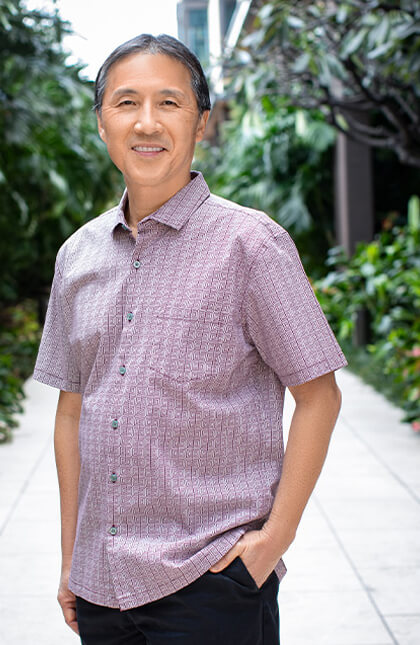 Elton Wong has over thirty years of real estate development experience and has been a project manager with the Kobayashi Group since 2004. His management projects include the mixed-use development with 200 affordable rental units and Juvenile Service Center/Shelter, the 191,000-sq.-ft. Kapiolani Medical Center Neonatal Intensive Care Unit and Pediatric Intensive Care Unit Building, and the development of the University of Hawaii Cancer Center, which was completed under budget and 4 months ahead of schedule. He has worked on entitlements and design of the King's Village Waikiki to a new 210-room condo-hotel, and the Renaissance Wailea Beach Resort renovation, 345-room hotel and luxury condominium residences.
From 1996-2004, Mr. Wong was a project manager for Kamehameha Investment Corporation (KIC), where he managed the construction of a fire station in Keauhou; the renovation of Kaulana at Kona, a Keauhou 44-unit condominium development; Kulana 'Oiwi, a Hawaiian multi-service center on Molokai; the Department of Hawaiian Home Lands 87-unit Kalawahine Streamside project; and Bayview Estates at Keauhou Phase II, a 45-lot residential subdivision. In addition, Mr. Wong prepared the corporation's Strategic Master Plan for Keauhou, consisting of 23 development parcels spanning a 20+-year horizon.
From 1989-1996, Mr. Wong was employed by C. Brewer Homes, Inc. and its predecessor, where he prepared the proformas and cash flows that successfully took the company public; participated in the infrastructure planning and phasing of the master-planned community of Kehalani, with 2,400 residential units and retail/commercial parcels; and managed the site development of Kehalani Phase II, and the development and sales of a 28-lot agricultural subdivision on Kauai. From 1981-1989, Mr. Wong worked at Bechtel National in San Francisco as a cost engineer responsible for cost reporting and new business proposals.
Mr. Wong was born and raised in Hawai'i, attended Iolani School, and received a bachelor's degree in Civil Engineering from the University of Hawai'i, a master's degree in Construction Engineering and Management from Stanford University, and a Master of Business Administration degree from the University of California, Berkeley.